Hawiah EL
In December 2014, the 95km2 Hawiah EL was granted to ARTAR on behalf of the G&M JV. The Hawiah prospect is located within the Wadi Bidah Mineral District ("WBMD") in the southwest of the Arabian Shield. The WBMD is a 120km long belt which hosts over 24 volcanically hosted massive sulphide ("VHMS") occurrences and historic workings for copper and gold.
The initial focus at Hawiah is on gold enrichment in surface gossans and a large VHMS target at depth, associated with a 6km-long, north-south exposure of a highly silicified and variably gossanous horizon. Initial surface exploration has confirmed that the gossans are enriched in gold and the mineralisation has good continuity along strike, as well as containing abundant secondary copper showings.
The planned exploration program at Hawiah aims to:
define a near-surface, economic gold resource in the gossan via trenching and RC drilling; and
simultaneously search for a major copper-gold-zinc sulphide ore body along strike and/or at depth.
Hawiah Geology and Planned Exploration
The Hawiah EL covers a predominantly bimodal mafic and felsic volcaniclastic succession in a broad anticline, with an unusually large expression of surface mineralisation outcropping on the eastern limb.
Hawiah's silicified and gossanous horizon was mapped and trenched by France's Bureau De Recherches Geologiques et Minieres ("BRGM") in the 1980s, who identified its gold-bearing potential and the gold potential of the WBMD.
In February 2015, KEFI completed a first-pass, wide-spaced trenching program. A total of 53 trenches, for a total length of 1,620m, was excavated over the 6km-long gossanous horizon. KEFI's trenches repeated all of the BRGM's trenches, as well as extending the known (4km) exposure to the south and to the north.
Almost all of KEFI's trenches contained anomalous gold, including 6m at 2.22 g/t gold, 2m at 8.69 g/t gold, 6m at 1.94 g/t gold, 3m at 5.76 g/t gold, 2m at 7.54 g/t gold and 8m at 3.04 g/t gold.
The BRGM and KEFI results both confirm that gold grades occur with good continuity along the strike length of this 6km-long gossanous horizon. Beginning in Q2 2015, this extensive, shallow gold potential is planned to be tested by infill trenching and first-pass RC drilling. 
In order to test the deeper VHMS potential, KEFI is using geophysics and plan to use geochemistry to define drill targets.
A self-potential ("SP") geophysical survey over the southern half of the gossanous horizon identified: 
an intense north-south trending SP anomaly with a continuous maxima of 350 millivolts, located between 125m and 300m below surface with an 800m strike length. The intensity of this anomaly is consistent with the presence of a massive sulphide source, or to a high and contiguous concentration of disseminated sulphides at depth; and

a parallel SP anomaly with a similar but less continuous intensity located 600m to the east.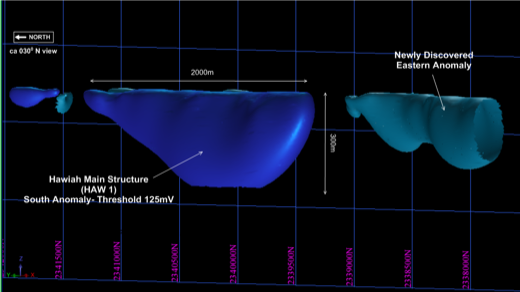 3-D interpretation of Hawiah SP geophysical survey data
Targets generated by the SP survey are planned be followed-up with a more detailed induced polarisation ("IP") geophysical survey. The IP survey is designed to test for electrical conductors (i.e. massive sulphides) down to vertical depth of 600m below surface. The IP anomalies will provide targets with vertical depths that are planned be tested by diamond drilling.
The BRGM undertook similar SP surveys in the 1980s over other gossans to the south of Hawiah in the WBMD, with limited follow-up drilling intersecting up to 10m at 2% copper.
Hawiah Regional Prospectivity
The WBMD is a 120km-long, north-south trending belt which hosts 36 prospects of three main types:
VHMS deposits;
volcano-sedimentary deposits associated with disseminated to sub-massive sulphides; and
shear zone & quartz vein hosted deposits. 
KEFI Minerals has nine other exploration licence applications pending within the WBMD covering other existing targets and highly prospective ground.
The BRGM assessed the gold potential of gossans in the entire WBMD in the 1980s. The BRGM estimated a total of 400,000 ounces of gold to be contained in the gossans that were assessed in the WBMD, with the average grades of some deposits ranging from 5 g/t gold to 7 g/t gold. The BRGM also carried out some geophysical surveys over the gossans and carried out limited drilling to test the anomalies generated. Some massive copper-zinc sulphides were intersected, but the drill core was not systematically assayed for base metal content, nor followed up by further drilling.
VHMS deposits are major sources of copper-lead-zinc-gold-silver ore bodies. Examples of large VHMS deposits in the ANS include:
Eritrea - Bisha (Nevsun) and Asmara (Sunridge) deposits;
Sudan - Hassaii (Ariab) deposits; and
Saudi Arabia - Jabal Sayid (Barrick and Ma'aden) and Al Masane (Arabian American) deposits.
The Hawiah EL and surrounding under-explored WBMD are considered to be very prospective for gold and VHMS deposits.