Saudi Arabia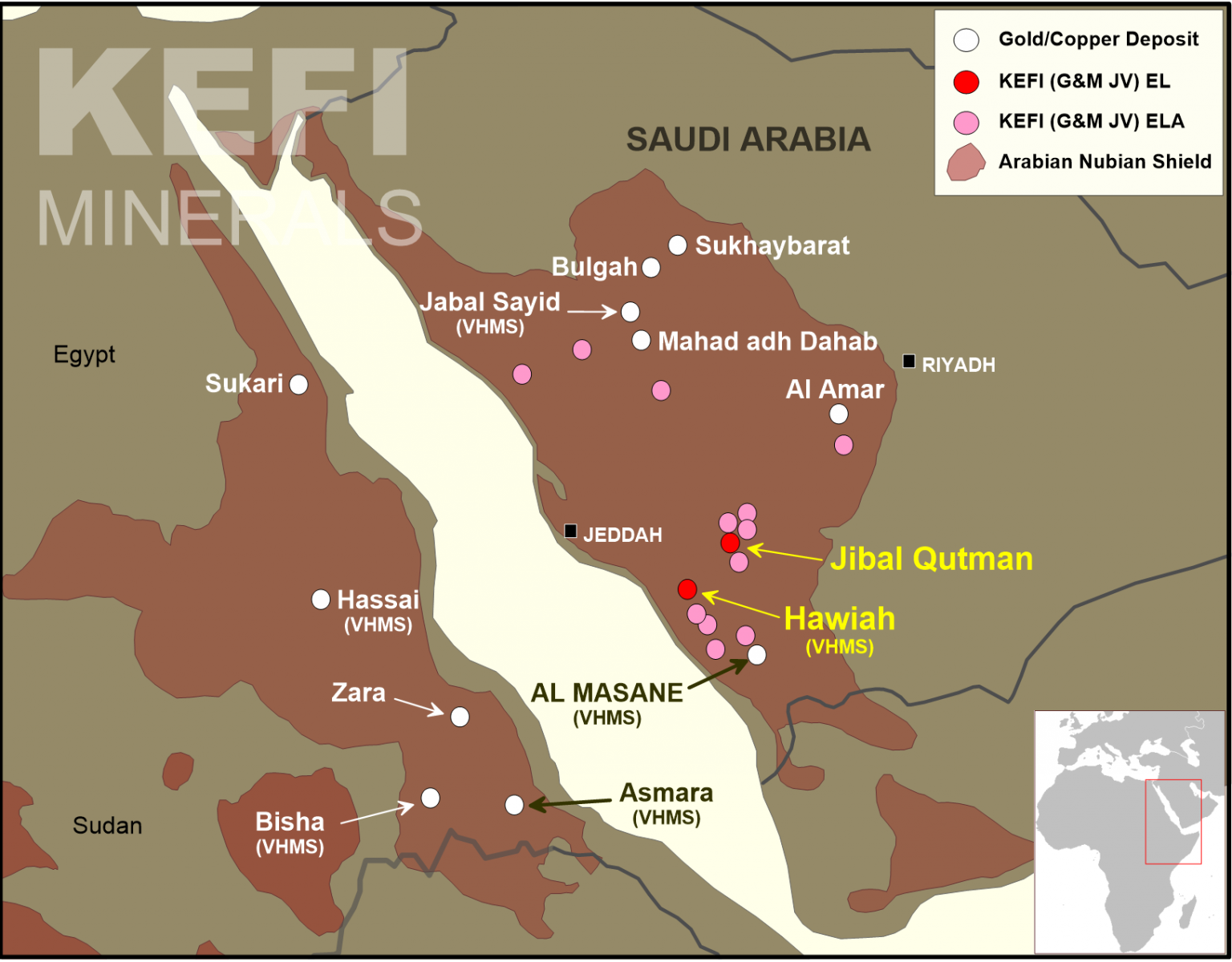 ​
The KEFI Minerals team has been evaluating potential joint ventures and prospects in the Kingdom of Saudi Arabia since mid-2008.
As a 34% shareholder and manager of Gold and Minerals Co Limited ("G&M"), KEFI Minerals has established a strong foothold from which to build on the momentum achieved to date.
KEFI Minerals is well placed to advance and develop our projects with the assistance of our partner Abdul Rahman Saad Al Rashid and Sons Company Limited ("ARTAR"), a leading local industrial group owned by Sheikh Al Rashid and his family.
The Kingdom of Saudi Arabia has instituted policies to encourage minerals exploration and development. A resurgence of the Kingdom's minerals sector could generate significant employment and assist with development of infrastructure in remote areas of the country.
G&M is aligned with these policies with ARTAR as the majority shareholder and KEFI as the technical partner.
G&M Prospects
G&M's primary target is the discovery and development of a >1 million ounce gold-equivalent deposit in Saudi Arabia's under-explored Precambrian Shield. 
Following the grant of the Jibal Qutman Exploration Licence ("EL") in July 2012, KEFI Minerals rapidly identified Mineral Resources totalling more than 700,000 ounces of gold. A Preliminary Economic Assessment has demonstrated the strong economics of potentially producing gold via an open cut, heap leach operation at Jibal Qutman.
Following the grant of the Hawiah EL in December 2014, KEFI commenced exploration of an unusually large gossan for gold at the surface and a VHMS copper-gold-zinc sulphide ore body at depth.  Drilling commenced at Hawiah during 2019 which discovered three distinct copper-zinc-gold-silver massive sulphide lodes.
G&M also has a large portfolio of Exploration Licence Applications in Saudi Arabia that are prospective for both gold and copper-gold mineralisation. 
About ARTAR
ARTAR is a Saudi Arabian conglomerate investing in different sectors such as construction, real-estate, agriculture and health care in the Kingdom of Saudi Arabia and abroad. ARTAR's principal business activities include commercial and residential property development, engineering, and construction of large shopping malls, hotels, hospitals and high rise apartment complexes. 
Investment in the fledgling minerals sector in Saudi Arabia is part of ARTAR's business expansion plans. For further information on ARTAR, visit the ARTAR website.